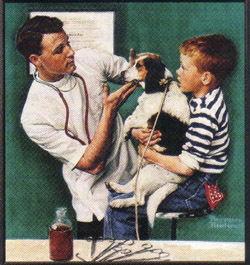 Dr. Stuart Goldenberg:
A native New Yorker with a great love for travel. He graduated from James Madison High School right here in New York City, and then completed a bachelors of Science degree at Syracuse University. After Graduation his wanderlust took him to Europe where he received is D.V.M. degree from the University of Pisa in Italy. After returning to the states he completed his postgraduate work at the Animal Medical center back home in New York City.
Dr.Goldenberg has a special interest in feline medicine and the field of critical care and emergency medicine having spent some years in a feline only practice and many years as an ER Veterinarian. Over the last few years he as dedicated a great deal of time to the study of pediatrics and pain medicine.
His Hobbies include spending time with his wife and son, Miles, as well as music, traveling, bicycling, reading, and Computers. Dr. Goldenberg is a member of the American Veterinary Medical Association, American Association of Feline Practitioners, American Animal Hospital Association, Veterinary Emergency and Critical care Society and the International Veterinary Academy of Pain Management.